Quite a weekend it's been! Yes, I did see
X-Men Origins: Wolverine
, and I actually liked it. Mind you, I am not a veteran X-Men fan... did not read the comics, did not watch the show, hardly saw the movies, although I think I'm gonna have to pick it up since it seems interesting, and I can see why
Heroes
was being compared to it a lot when it started.
Hugh Jackman is
ridiculously hot
.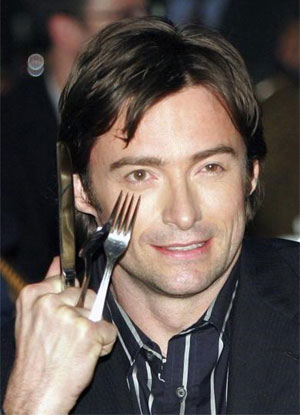 Teehee~
I kept having the urge to lean over and whisper about how hot he is...
then I remembered I was watching with Jose XD
Anyway, that was Friday!
On Saturday Mika had her SATs. Poor thing's been worrying about it forever, and now that she's done with it, she's... well, she's
still
worrying about it. There's not much to do once it's done but wait for the results, but I suppose waiting carries its own weight. After she got back we went to the new
Open-Air Market
at the mall by our house to see how it is. The verdict? Not as good as the Farmer's Market by the park, but it's decent, and to be expected of one that's just starting out. $7.50 mango crates! My old high school's jazz band played there, too. I think they're doing it again. This market is going to happen every Saturday for six months to see how people like it.
Oh yea, we also got some smoothies there... I got orange/vanilla, because something possessed me to believe such a thing could taste good.
WRONG
. It made my taste buds weep bitterly.
My mom and sister were going to see
Wolverine
with my aunts at the Fox Lot for free... seeing it again was tempting for me, but I decided to stay home and work on my essay for astronautics. I also cancelled movie night plans with Brendel for that, but that's gonna happen sometime later, probably next weekend. I did go out that night though; when my mom and sister came back we went to Kyle's house to catch the
Pacquiao vs. Hatton
fight.
12 rounds, a 3rd round knockout prediction, with the win giong to Manny Pacquiao.
Pacquiao won by TKO in round 2.
ROUND 2!!

Pacman is a frigging BEAST!
Hatton's strategy against Pacman was apparently to outpunch him and overpower him.
WRONG.
He didn't stand a chance. Kyle said it was a waste of money to pay to watch, only for it to be over so soon XD The official time is 2 minuts and 59 seconds. That's ridiculous.
To keep up with the boxing talk, I'll segue into Sunday (today), in which Jose, G and I continued our weekly workout (the first happened last Sunday). We started (as we did last time) by running a lap, then doing a few stretches and exercises, before Jose started to teach us more boxing. He began doing that last week and just continued today. Really the workout was for G and I, Jose hardly got any since he was the one teaching us!
It's a lot of fun having Jose teach us. He used to train/work at this place called IMB (International Martial Arts and Boxing) Academy, so we know everything he shows us is legit. He only taught us basic punches, parries and weaves last week, so this week he picked up by teaching us slips and combos. He also taught me how to stomp a la muy thai, which, if done properly, can dislocate knee caps! He tried teaching me how to do muy thai kicks, but it was so hard for me! I couldn't grasp it at all. My legs are so used to the circular kicks I did in capoeira, so it was really hard to snap my leg and treat my kick "like a punch," as Jose said. I got really frustrated.
On the bright side, Jose complimented me on my punching, saying I was the best student he's ever taught. Eeeeeeeeee! You know what this means, right? It means I know how to punch a lot of different ways, and that you should not try to mess with me. If you do and I fail, then I'll just sic Jose on you. :)
After our workout we all went home for a few hours. A little after 4 I left with my mom, sister, and Jose to Long Beach because it was the opening reception night for the Foundation Art Show at my school, where my work was going to be displayed! Yay! I didn't expect much of my work to be displayed because my teacher only had a limited amount of space and so many students to choose from, but to my surprised, she displayed almost all of them! It was a pleasant surprise, to say the least. I ran into her at the show and thanked her. I'm so happy. I'm gonna get my work back after it's all taken down from the show.
SO HAPPY!
GREAT WEEKEND!